Its Goodbye! =D | Monday, December 31, 2007
" HAPPY NEW YEAR! "

may 2008 be the end of all miseries and the start of a wonderful future.
In conjuction of the new year, a total of 9 authors will be launching a website, making it a one-stop-centre featuring different experiences and encounters by all 9 authors themselves.


I'm happy to be one of them, therefore i will be leaving this blog then. =)


Join us at

you can start changing your links, ppl!


ENJOY THE NEW YEAR,

and to my group2 classmates, please remember to check the revised timetable soon.

for now, all classes will start on the 3rd, take note of F7 classes.


p/s - this blog remains for archiving purposes.

@.@ budak khas ke2 shared his wisdom! 3:31 AM
*****************************************


Starbucks, Taipan. | Saturday, December 29, 2007
" The Beloved Sister. "
it has been a very long time since we last met.


riley decided to meet up with both chris and i after some time, which was good =D.
our brief gathering was held in starbucks, taipan usj.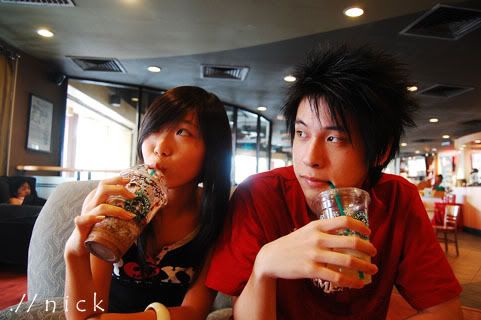 both chris and i brought along our dslrs, as we were working on some assignments.
but well, everything ended up being a mini photoshoot in starbucks LOL.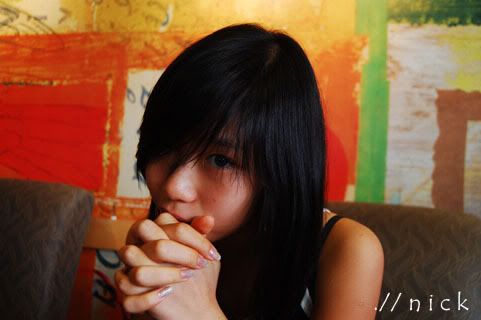 i seldom had the chance to take potrait photos compared to chris,
so this was definitely my golden opportunity to get some experience. =DD


both chris and riley became my subject, and of course vice versa for chris.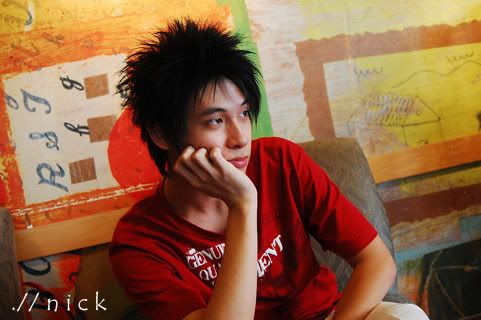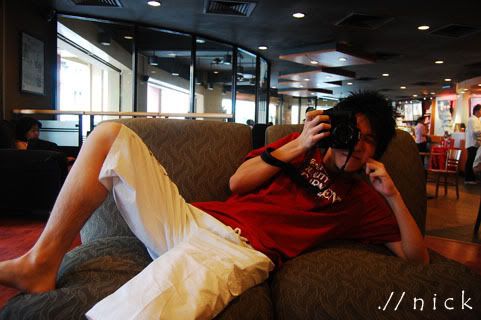 the meeting was set at 1pm, and we stayed on and chat till it was 5.30pm.
... and so was the photoshoot.
both chris and i went trigger happy, and the shutter sound couldnt stop clicking. xD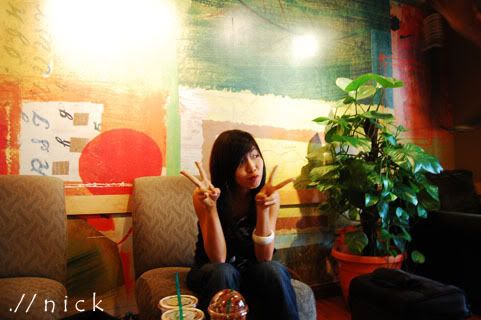 haha, the pic maybe abit blurred, but somehow i love the effects xD.

half way through our conversation, it was coincidence that a few of our form 5 juniors decided to have a meet up there as well. It seemed that two of them are going off to their respective camps for NS today! =D so they were just wishing each other all the best, and seeing each other for the last time in the year.
anyway, when riley's mum came to pick her home, both chris and i bidded each other farewell and made our way home on foot.

@.@ budak khas ke2 shared his wisdom! 3:29 PM
*****************************************


Bar BQ Plaza. | Friday, December 28, 2007
" The Last Gathering "
for 2007 at least haha.


For the last time in year 2007 before it ends, we decided to have dinner after not seeing each other for 2 weeks haha. yes i know, we miss each other okay! LOL.


i brought along my d40 of course xDD, and well edmund was the first to pose.
i quote edmund, 'now the world shall see the true edmund kuah!' LOL.
the couples among us. w00t!
Jon-Ee Leen, and Andrea-Jeremy.

and now presenting the picture of the day night!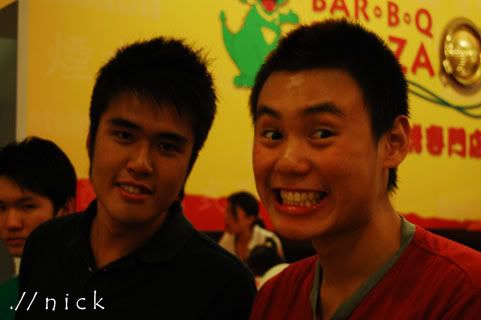 oh well, what can i say. he's chun hoe to begin with. LOL.
HAHAHAHAHHAAHAHAHAHA!!!


wasn't able to get many shots as most of them are just repetitive,
oh well three is enough i guess xD.


chun hoe wont be joining us next semester anyway *sigh*, he has decided to continue his training as a state swimmer, hopefully to be able to make his mark in the pool again. so therefore, his presence and his childish acts will be deeply missed.


ALL THE BEST TO YOU, CHUN HOE.

@.@ budak khas ke2 shared his wisdom! 11:59 PM
*****************************************


Marriot Putrajaya | Tuesday, December 25, 2007
" Merry merry christmassss! "
wishing all a wonderful day ahead and a happy new year soon.


I sincerely apologise for the inactivity xD was experimenting with my new toy. after much advices from chris and ying wei, i set out to the eye of malaysia with my family on christmas eve, but i will leave that to much later =D


anyway, my dad decided to bring the whole family for a buffet lunch in Marriot Putrajaya to celebrate the christmas joy. making it my 2nd on-the-field practical training, since eye of malaysia was my first, i set out with the handy D40.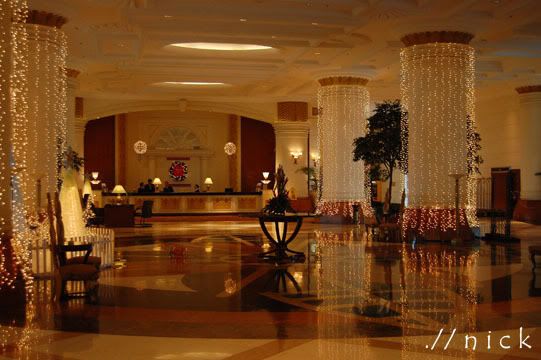 decorations around the hotel was not disappointing, as it nicely illuminated the surroundings of the main lobby. we proceeded on to a floor lower as there was where the buffet was held. according to the manager, four restaurants of the hotel were joint to organise this christmas feast.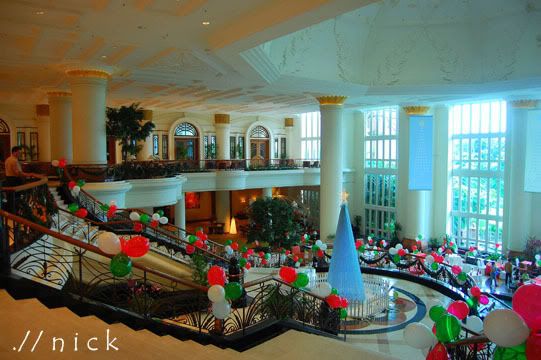 after getting our table as we had booked earlier, the family went on to get their food while i wandered for some time to get some shots. i was experimenting with one of the semi-manual function of the camera, was on aperture-priority mode before everything i took overexposes due to the lightings from the outside. therefore i settled down with shutter-priority for the whole day.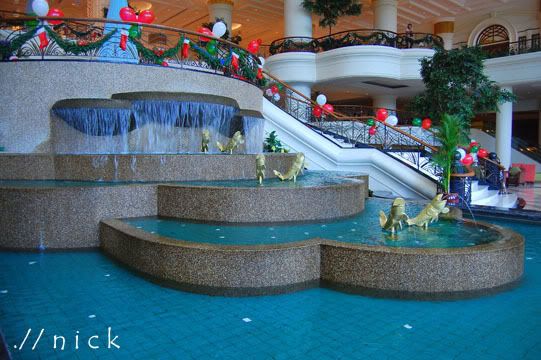 the food was great!! if its one thing that will ruin my diet, its this one. zomggggg the amount of food surrounding the place was heaven. with a combo of japanese, chinese, italian, western and each with their signature dishes, i definitely had a hard time deciding what to eat. and within moments, i was filled. *pants*


and of course they had clowns going from table to table entertaining guests, especially the kids. there were a few tables of foreigners around, each with their kids fascinated by the balloons made by the clowns.
he was willing to pose for the camera as i pointed the d40 at him.


i was rotating between eating and taking pictures most of the time, and once i spotted that the waitresses were wearing different outfits, i approached three of them and asked if i could take a shot of them.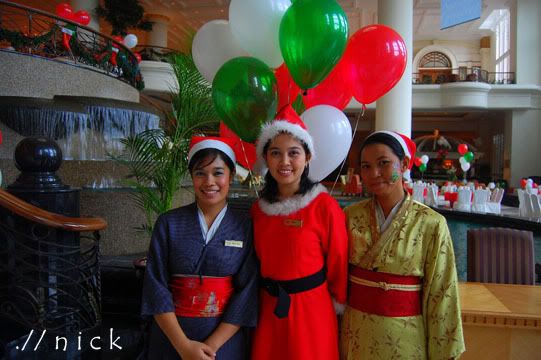 my guess was they were surprised at first but was more than willing to pose for a picture =DD hahaha a good test of my courage to ask for a picture ei? lol.


the day was not over as the management of the hotel had events prepared to entertain the crowd. the clown whom i took a picture of earlier, went upstage to woo the crowd with a magic show.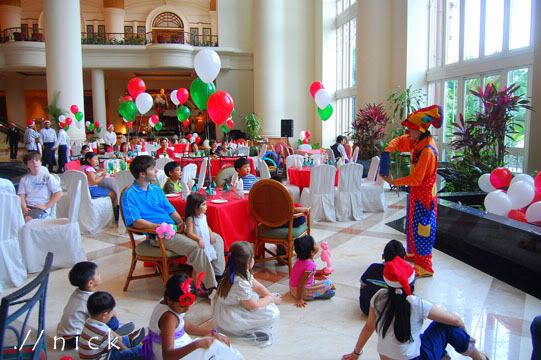 the kids were of course mesmerized. haha. well i remember how i used to love these magic shows, and as i grew old i learnt that it was all basically eye illusions. i still love them though haha, just as an entertainment =D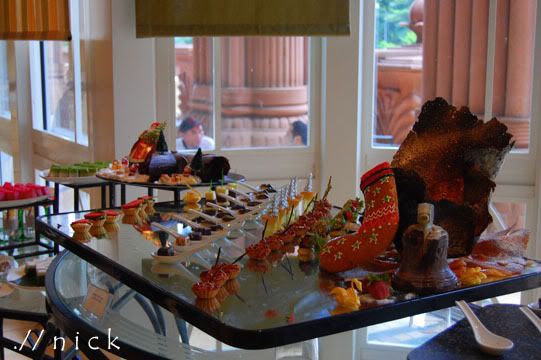 desserts! xDDDD
unfortunately i did not manage to try any of them, was very filled @.@
another section of the restaurant.
whee~ i was here! hahaha xD
the buffet ended at 4pm, after having our stomach filled with some good food, we finally decided to make a move. i dont think i will be having dinner anyway @.@ yes im THAT full ok haha. after footing the bill, and bidding farewell to the waiters and waitresses as they bid us farewell as we walked out, we proceeded to the car and make our way home.
trigger happy me! =DDDD
well the shots taken for the day were not all nice unfortunately, i suffer mainly due to exposure levels, as there were differences between eye of malaysia and today. for eye of malaysia, they were outdoor shots and for marriot they were indoor shots.
anyway, no error no gain. haha.
MERRY CHRISTMAS PPL! =)

@.@ budak khas ke2 shared his wisdom! 9:16 PM
*****************************************


| Friday, December 21, 2007
" A new vision. "
anyway, if ur wondering where i have been, yes im back from Langkawi already. haha.

unfortunately, the update about Langkawi will have to wait. lets be patient shall we? =)

i have a new toy. *jumps around like a small kid*


yes! i have finally gotten myself the Nikon D40! =DDDDDD

spent the whole day in KL with ying wei haggling for the best price from different shops in both Sungeiwang and Low Yat Plaza. it was rather disappointing at first as most outlets were out of stock, especially those offering really good prices.

anyway, God has not allowed the outing to be an unfruitful one, i arrived at a shop in Low Yat Plaza not offering the best price, but the most decent one i can find among all the outlets. with a free nikon original 2GB SD card, a tripod and a bag, it was all within my budget. and so i arrived home a happy man. =)

thus i shall spend the weekend getting used to the functions then. tata~

P/S - i wont be abandoning my ixus of course xD im still very much an ixus fan.

@.@ budak khas ke2 shared his wisdom! 7:53 PM
*****************************************


Sungkai Trip | Saturday, December 15, 2007
" CAT BC Group 2 Jan 2007 "

its all about friendship.


those who went to Sungai Klah Hot Springs Park, Sungkai.
thats it peeps, im off to Langkawi in an early flight off LCCT tomorrow. dont miss me! =p

P/S - both photos courtesy of Lee Siao Wah.

@.@ budak khas ke2 shared his wisdom! 11:59 PM
*****************************************


Class Trip in Perak. | Friday, December 14, 2007
" Sungai Klah Hot Springs Park, Sungkai. "
a great place to be with friends and families.
i am now very much roasted.


anyway, the class trip has been the best trip i have attended so far! despite the fact that we only spent a night there, but all was very well worth it as friends get together to celebrate the brief freedom after our exams. well i dont know about my classmates, but i definitely had fun!
we gathered at college at 7.20am in the morning. after the head count, we hopped onto the bus we rented and took off at 8am. i very much wanted to sleep on the bus, since i only slept for about 3hrs the previous night, but the bunch were so lively and several rounds of chor tai ti kept me awake throughout the journey.
the journey lasted about 2hrs, and around 10am we reached our designated spot. a small place called Sungkai, which is located somewhere in the state of Perak. we proceeded on further till we reach the hot springs park.


we were at the ticketing booth, putting on our wrist straps as evidence that we have paid the entrance fee. i was so excited that i almost forgot my role as the photographer xD i didnt take out my camera until most of us had our wrist strap on.


then it was a 5-minute-walk to our camp site. oh yea, did i mention that we were camping out? there were villas of course, but it was all fully booked when we made reservations few weeks ago. bsides, the villas arent exactly cheap lol.


we walk, and we walk, and we walk.
the flora and fauna around was awesome. being city folks, we hardly can enjoy such wonderful air. it was that cool breeze of wind with a little refreshing taste that has really lightened up our moods for the day.

soon, we reached the cafeteria. it was mutual that we all decided to chill out at this peaceful structure located right beside a pond. our camp site were just beside the cafeteria, so it was quite convenient in terms of food. couldnt complain much about the food, it was a rip off but what can u say, its a tourism spot =D
reception was a total no-no for maxis/hotlink users. we were totally cut off from the outside world. with only 'emergency calls only' appearing on the face of our cellphones, we really couldnt do much except for using it for music or gaming purposes lol. it was a different case for digi users though, they had full reception.


as much as i dislike digi, for situations like this, i wish i was a digi user LOL. but i guess being cut off from the outside world means total peace especially for those who seek for a quiet vacation without being disturbed by work.


our camp site. we rented a total of 8 tents, which was actually more than enough. edmund, hong khai, chun hoe and i shared the same tent, but chun hoe didnt made it to sleep anyway for the night, more stories on that later on xDDDD. the surroundings of our campsite were quite satisfying if i may say, the hot springs pool was a few steps away, the cafeteria was just beside, and a small resting hut was just located infront of the campsite.


the greenery surrounding the campsite.
after we had chosen our tent members, and settled down the baggages into our respective tents, we decided to take a dip in the main attraction of the place. im afraid i couldnt bring my camera along, so there werent many pictures in that aspect =/ i sincerely apologise. haha.

there was the hot spring, and also the mountain spring water, which was cold and is said to come from the hills. we went to both, the distance between the both was rather far i may say, ok maybe not thatttt far, but it requires you to walk abit between both locations.
soon, it was lunch at 2pm.
chill people, we did not eat cards for lunch. we had some brief malaysian food, such as nasi lemak, etc. we were chilling out with card games after lunch.
it was the effort and hard work of these two individuals that made it all happen for us. a big big thank you to both ming ting and jonathan. for looking out for our welfare throughout the trip and also making sure that we had enjoyed ourselves thoroughly.
and we went back to dipping ourselves in the hot springs. the few of us however, went over to those mini hot springs for a little 'guy talk' hahaha.
we had bbq for dinner! at around 5pm, we gathered to help set up the bbq pit. with a few of us spreading butter onto chickens and sausages, while some helped out with starting the fire, and some helped to eat. LOL xD
it began to drizzle shortly, and we were forced to moved the bbq pit to the hut, which was sheltered.


they sure tasted good! we showed our appreciation to wai yin and her mom for marinating the chicken by finishing every single piece of them xDDD. oh well, i know its not healthy, since its carbon haha, but once in awhile wouldnt hurt much tho. w00t!


dusk was soon over, and then it was nightfall.


the peaceful sounds of insects were rather calming to the soul, as we took our own sweet time getting back to those mini hot springs for more leisure time.

and of course not to forget that we had a brief performance by james and seh yung!


it wasnt perfect, but it was definitely entertaining alright, we truly enjoyed it. =DDD if you have watched the video, u would have noticed the sudden cut in sequence. my memory space ran out during that moment, and i quickly make space by deleting previous video to get back into filming the performance.
unity. =D i can really feel the togetherness as a group now compared to grp3 in the previous semester. its not that it wasnt fun back then, but now its the togetherness really, the feeling that u have one another to rely on.


we didnt plan to sleep the whole night, so for starters we gathered in the cafeteria, sharing jokes and all sorts of stories together. it was a time where finally we get to be together and not doing anything. it was always us being together, with books and studying to do. xD now its just us with each other.

chun hoe on the other hand, didnt join our mini gathering. he was *ahem* busy elsewhere with a newfound friend, which eventually led to him not sleeping the whole night. as for us, i couldnt take it any longer after 3am, and headed back to my tent for a good night sleep.

we bid farewell to this man made sanctuary at 4pm the next day.
my ixus battery died, so i will post more pictures when i receive it from the others. =) till then, its the end of the post.

@.@ budak khas ke2 shared his wisdom! 4:00 PM
*****************************************